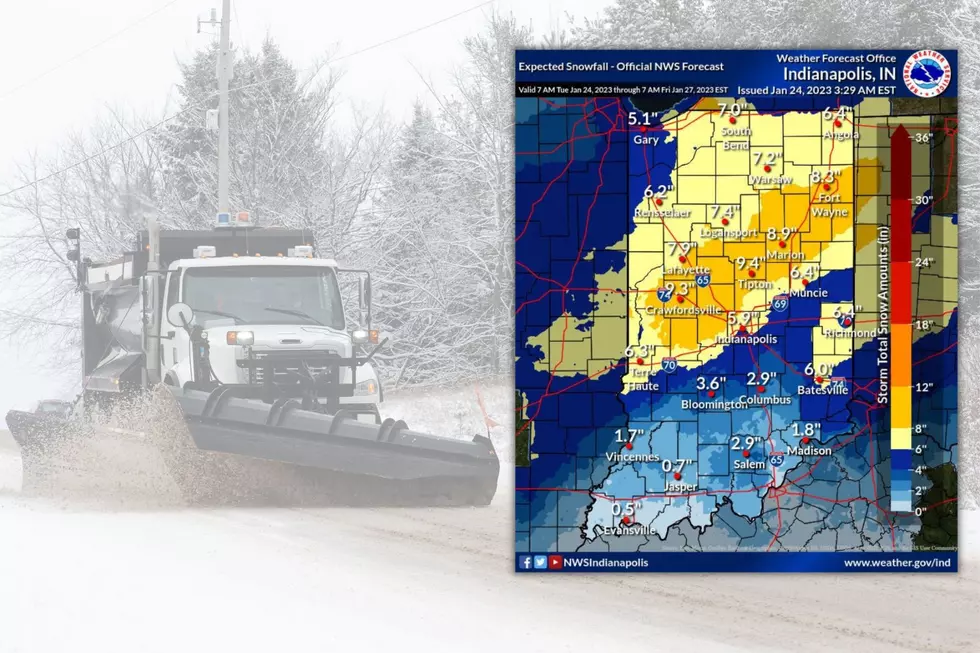 Indiana Department of Transportation is Preparing for Possible 9+ Inches of Snow Ahead of January 2023 Storm
NWS/ Canva
The Indiana Department of Transportation sent out a press release today to the media about their plan to tackle the enormous amount of show that parts of the Hoosier State might get overnight and into Wednesday morning.
According to the National Weather Service in Indianapolis, rain will transition to snow south of I-70, with higher snow totals along and north of I-70. Snowfall rates of up to one inch per hour are possible at times.
According to their graphic, snowfall totals could reach above 9 inches in some places.
In a Facebook post, the NWS Indianapolis said to expect a broad area of 4 to 8 inches of snow with higher amounts north and west of Indianapolis. Further south, rain and some dry air may limit amounts.
Here around the Evansville area, we will probably see about half an inch or so though we are under a winter weather advisory. It will be kind of like when we woke up last weekend so a dusting. They did warn that travel could be impacted on tomorrow morning's commute and more snow tomorrow.
Here's the official forecast:
Rain, possibly mixed with snow before 10am, then rain between 10am and 4pm, then a slight chance of rain and snow after 4pm. High near 41. Breezy, with an east wind 15 to 22 mph becoming west in the afternoon. Winds could gust as high as 36 mph. Chance of precipitation is 100%. New snow accumulation of less than a half inch possible.
INDOT has announced that they will be at full call in most areas and will remain active throughout the storm. They are also warning motorists to stay off the road in hard-hit areas and if you do have to drive, to closely monitor forecasts and expect slushy and icy roads.
Monitor real-time travel conditions and view traffic and snow plow cameras online at 511in.org or via INDOT's TrafficWise app. Regular updates will also be shared on INDOT's social media channels. Check for travel advisories in your area at in.gov/dhs/traveladvisory.
Don't forget to download our app for the latest in weather, news, and closings!
See Our Closings & Delays Page Here
Stock Up on These Winter Essentials Before It Snows
Winter is coming! Before you get caught with three feet of snow and no snowsuit, make sure that you have the essentials to get thru this winter and stay warm!
*As Amazon associates, we earn on qualifying purchases.