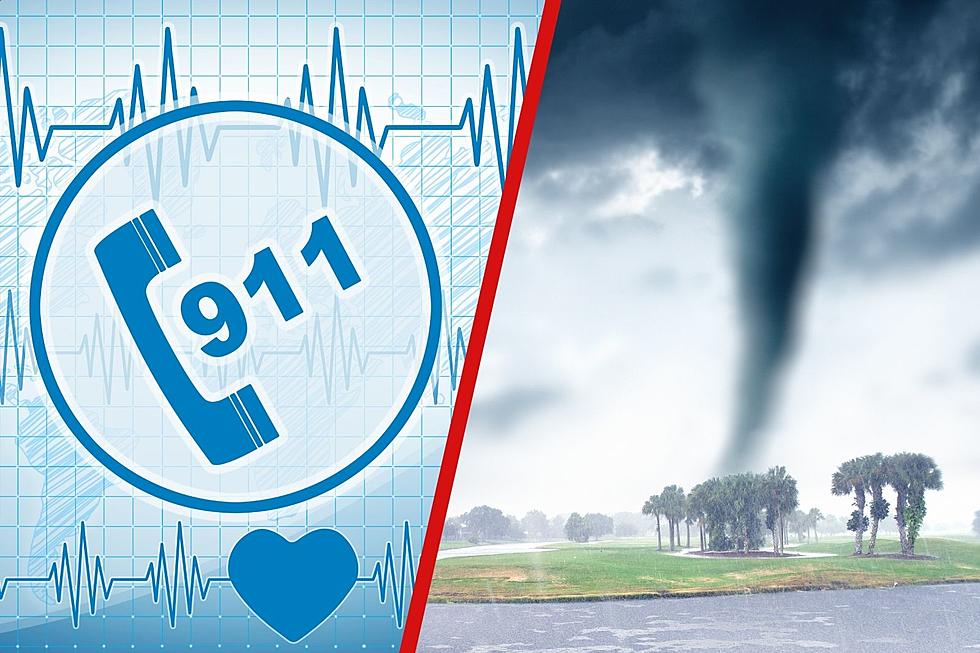 When Should You Call 911 During Severe Weather, and When You Should Not
CANVA
April 10, 2022 - April 16, 2022, is National Public Safety Telecommunicator Week. This is the special week when we send out a big thank you to all of our 9-1-1 friends. With the forecast calling for severe weather today, I know that our emergency personnel will be put to the test, answering hundreds of calls.
9-1-1 Dispatchers Stay Busy
I can tell you from experience that there are certain days that as a 911 dispatcher, you know that everything will hit the fan, and probably all at once. Holidays are usually busy with domestic situations, parties that have gotten out of hand, and fires. It's not just a wive's tale, the full moon will bring out all of the crazy!  Severe weather is another very busy time in the dispatch center. Obviously, real emergencies don't stop during weather events, but you might be tempted to call 911 for what you think is an emergency, but it really isn't.
Not a 911 Emergency
I checked in with the professional dispatchers and law enforcement that have worked more severe weather days than they care to remember. Here are some of the examples that IDACS Coordinator Becky Beadles and Sergeant B. Vanoven with the Gibson County Sheriff's Office want you to know:
DO NOT CALL 911 to report your electricity, cable, internet, phone, and other services like these. You should have a list of their numbers handy so you can call the appropriate company.
DO NOT CALL 911 for a weather report
DO NOT CALL 911 for a road report
DO NOT CALL 911 if you hear the weather sirens sound in your area
Real 911 Emergencies
CALL 911 if you or someone else needs immediate medical attention
CALL 911 if something is on fire
CALL 911 if you are in or see a wreck
CALL 911 if you or your neighbors are in immediate danger
Other Helpful Information
It is very important to know your correct address. That may seem obvious, and you might also assume they know where you are at. That is not always the case, especially with cell phones, and equipment can fail during storms.
Tune in to local television weather announcements from WEHT, download our station app for notifications, we also simulcast WEHT when we are under a tornado warning. Use a weather radio if you have one, and make sure your devices are charged and you know the safest place in your home and/or workplace.
If you are in an accident, and it is safe for you to call 911, try to describe your location to the best of your ability, and how many patients there might be.
Are the Movies Like Real Life?
In Jake Gyllenhaal's Nexflix movie The Guilty, he plays an officer that is placed on 9-1-1 desk duty. I won't give it away, but from the viewer comments, it paints a pretty realistic picture of what it can be like working in the dispatch center.
My dad is a 911 dispatcher. I hope this movie gives any sort of awareness to the real difficulty of this job. The real people doing it day in and day out are HEROS, real-time first responders. The calm voice on the other side of the line when suicides happen, murders, fires, you name it. Hats off to anyone who does this job for real. One of the most difficult in the world.
Totally agree. I worked with the police in the same room as emergency callers work. The stress these people deal with daily is immense. There tends to be a high turnover of staff as people can't do it past a few years. Serious PTSD. Little recognition.
The Guilty takes place over the course of a single morning in a 911 dispatch call center. Call operator Joe Baylor (Gyllenhaal) tries to save a caller in grave danger—but he soon discovers that nothing is as it seems, and facing the truth is the only way out.
https://www.tristatehomepage.com/weather-news/significant-severe-weather-possible-today/
10 Ridiculous 911 Calls Shared by Evansville Watch
Well, here we are just a few weeks into 2022 and our local police have been busy. Obviously, most of the calls that come in are serious and nothing to laugh at. Other calls just make you shake your head. Here are ten of those ridiculous calls. Thanks to our friends at
EvansvilleWatch
for documenting everything in real-time.
KEEP READING: Get answers to 51 of the most frequently asked weather questions...