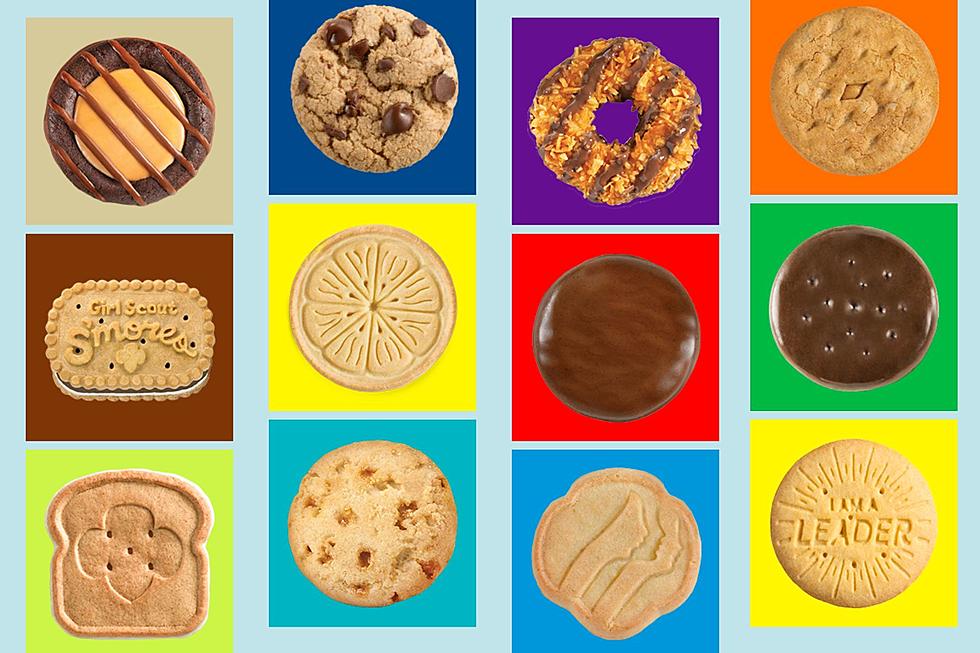 Why Are There Different Girl Scout Cookies Available in Indiana and Kentucky?
The Girl Scouts - Canva
Sure, we're getting ready to launch ourselves into the throws of the holiday season. Thanksgiving is coming up Thursday. Then, we have Black Friday, Shop Small Saturday, Cyber Monday, Giving Tuesday and the "Polar Express" will keep barreling down to the tracks until we get to Christmas, which is just over a month away.
It was actually at the Owensboro-Daviess County Christmas Parade over the weekend, where I was inspired to look beyond the 2023 holiday season.  Each year, I am one-half of the team that provides the parade play-by-play for the Owensboro Times live stream. As usual, the parade featured a couple of Girl Scout troop floats. During the broadcast, as one of the troops passed by our booth, I made a comment that I was craving some Girl Scout Cookies and that we were just a couple of months away from Girl Scout Cookie season. Now, we know exactly when that season here in western Kentucky will begin.
WHEN DO GIRL SCOUT COOKIE SALES BEGIN IN KENTUCKY?
Shelley Hunt popped into the comments thread of the broadcast to chime in. She shared the glorious news and save-the-date. She wrote, "Girl Scout Cookies go on sale January 15th, 2024, Chad."
YASSSSSSSSSSSSSS!!  There you have it! We're less than two months away from the official start of Girl Scout Cookie season here in western Kentucky. However, if you're having trouble waiting like I am, there's a benefit to Indiana being just across the river.
WHEN DO GIRL SCOUT COOKIE SALES BEGIN IN INDIANA?
Did you know that Girl Scout Cookie season in Indiana starts in December? It does. In fact, sales get underway on Wednesday, December 6th. According to Whitney, with the Marketing Department at Girl Scouts of Southwestern Indiana, says that's when scouts will begin to take preorders. You're also able to order online at that time. And, Whitney says there's a chance, if you order early enough, that you could get your Girl Scout Cookies BEFORE Christmas!
In Indiana, Girl Scouts will continue taking orders through January 10th and cookies will be delivered to the troops on February 6th for distribution.
At that time, if you forgot to place your orders, you can purchase them at booth sales around southern Indiana. Or, you'll still be able to order online through March 3rd.
WHY ARE THERE DIFFERENT COOKIES IN KENTUCKY AND INDIANA?
You also may have noticed that some Girl Scout Cookies look the same, but have different names. Here's why that is. According to the Girl Scout officials, "Each Girl Scout council contracts with one of two licensed bakers, whose recipes and ingredients may differ slightly: ABC Bakers and Little Brownie Bakers. Whether the package says Peanut Butter Patties or Tagalongs, or Samoas or Caramel deLites, the cookies are similarly delicious."
And there are some different offerings from state-to-state as well. For instance, in southwestern Indiana, Girl Scouts offer Lemonades, Toast-Yays! and Caramel Chocolate Chip (their gluten-free cookie). To see all the different Girl Scout Cookie varieties, you can check them out (and drool over them) HERE!
If you'd like to stay up-to-date on the latest, greatest, breaking Girl Scout Cookie news, you can enter your email address by CLICKING HERE!
Gallery — Every Movie Theater Candy, Ranked: