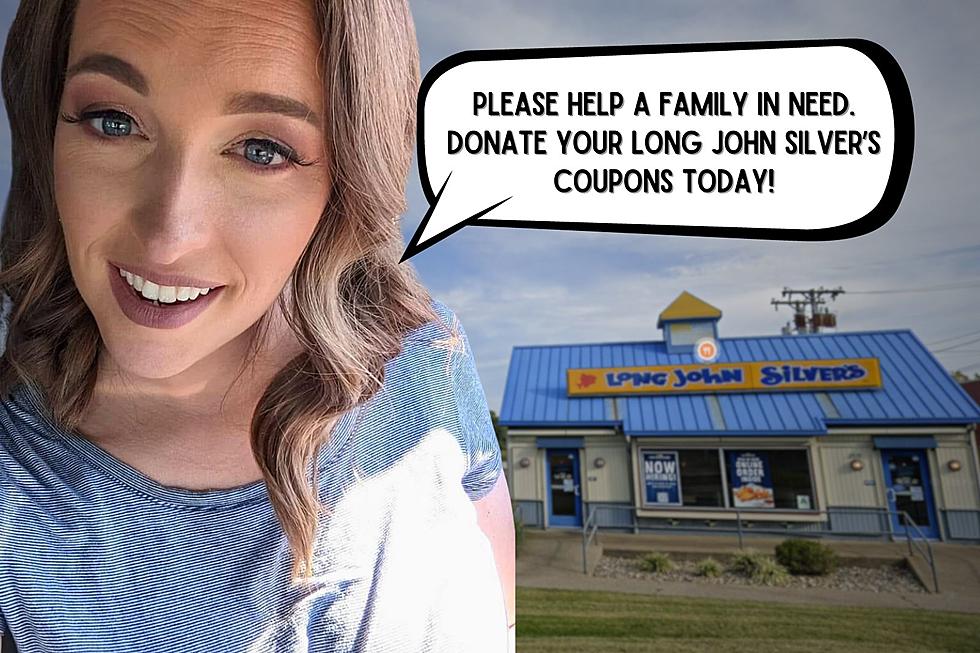 Kentucky Woman's Florida Family Has Special 'Fast Food' Request for Thanksgiving Weekend
Stephanie Bertram/CANVA
When Stephanie Bertram was in high school, she held down two jobs. She worked at the Malco Cinemas and she worked at Long John Silver's. Her sister Brittany worked at Long John's first, but Stephanie joined her when she decided she wanted to make some extra money to pay her car off. Stephanie remembers getting free food when she worked there and says working at the restaurant was "good times."
Well, this weekend, she's going to be reliving some of that magic thanks to some family members from Florida. Stephanie's grandmother (Lynette), aunt (Sandy) and cousins (Sierra and Hailey) are Owensboro-bound and the Jacksonville, Florida quartet has already placed a special request for their holiday host. They want Long John Silver's.
Now, here's the deal. Long John's won't be replacing the traditional Thanksgiving fare. In fact, they're going to be loading up on Turkey Day food twice on Thursday. First, Stephanie and her husband Eric host a Thanksgiving breakfast for his side of the family. This year, however, Lynette, Sandy and the cousins, because they're staying at Stephanie and Eric's, are going to be crashing it.
Then, everyone's heading over to Brittany's for the traditional Thanksgiving meal with turkey, dressing and all the sides one would expect. Thursday, at least, is going to be what you would expect. But then, the requests get interesting and a little outside the box.
Sure, in Jacksonville, there's an abundance of seafood. But there's one thing you won't find there- a Long John Silver's. And Stephanie's family is CRAVING it! They plan to stay Wednesday through Sunday and they've already told her- "At some point, we have to get some Long John Silver's." Given the fact that Grandma Lynnette hasn't been in Owensboro in about seven years, Stephanie has to honor that request. She has to make it happen. In her words, "They are obsessed with their chicken. It's the batter."
Not only does the Jacksonville quartet love the Long John Silver's chicken, they also can't get enough of their hush puppies and their other sides like green beans, cole slaw and some LJS French fries. Oh, and even more hush puppies.
So, Stephanie, because the food prices at Long John Silver's, like everywhere else, have risen exponentially, is trying to round up some 'Family Meal' coupons. But she lives out in the country now and doesn't get those "city" coupons in the mail like she used to. That's why she shared this urgent plea on social media.
For all my peeps who get the coupons in town! I'm in need of Long John Silvers coupons. Specifically the family meal deals. I have family coming up from Florida this week and they are obsessed with their chicken. Help a girl out!!
If she can wrangle some coupons, Grandma Lynnette, Aunt Sandy, Sierra and Hailey are going to be treated to an LJS Family Meal- with either 8, 12 or 16 "chicken tendies." And, in the spirit of Thanksgiving, Stephanie sends out a special "Thank You" to anyone who can help a girl out and donate some coupons.
If you do have coupons you can spare, you can drop them off or mail them to the WBKR Studios at 3301 Frederica Street, Owensboro, Kentucky 42301.
50 Most Popular Chain Restaurants in America
YouGov investigated the most popular dining brands in the country, and Stacker compiled the list to give readers context on the findings. Read on to look through America's vast and divergent variety of restaurants—maybe you'll even find a favorite or two.
Gallery Credit: Paul Feinstein