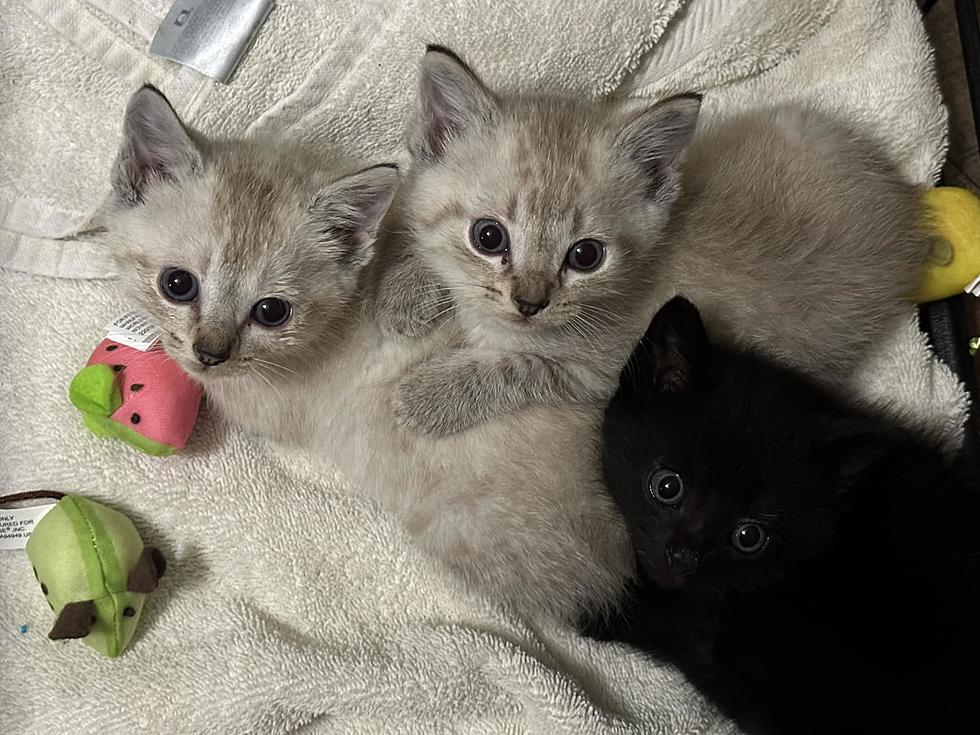 Kentucky Family Adopts Three Kittens Named After the Broadway Musical 'Hamilton'
Brad McCrady
Meet Angelica, Lafayette and Jefferson! These adorable kittens are brand new additions at the home of Brad and Ariel McCrady from Owensboro, KY. The couple, by the way, recently took a whirlwind trip to New York City where they saw Hamilton "in the greatest city in the world."
As Ariel explains, "Our whole family is Hamilton-obsessed, so the tunes from the show are on loop constantly around here." Their daughter Elinor "knows almost all the lyrics to the whole show."
After that trip, however, the McCrady home was hit with a tragedy. Elinor's beloved cat passed away suddenly in mid-April following their return from the big birthday trip in New York City.  Coincidentally, right around the same time, a relative of Ariel's had a stray cat show up on her property and she had a litter of kittens. Said relative reached out to see if Elinor wanted one and, of course, she did.

Now, I should tell you that the key word in this story, initially, was ONE! That said, when the family arrived to pick out one of the kittens, they ended up with a couple more. Elinor and the McCrady's twins each ended up with kittens in their hands and in their laps on the ride back to the house.  As Ariel explains, "I wholly blame Brad McCrady."
That said, she admits that the kittens are "precious" and the family is in love with them.  So, here they are- inspired by the musical Hamilton.

JEFFERSON
ANGELICA
LAFAYETTE
Here's how the family chose which Hamilton name to give each kitten. The plan is to save the name "Hamilton"  in case they ever get a pet pig. Since they aren't using Hamilton, the family didn't want to use the name Eliza either. Since Peggy wasn't truly a major character in the musical, they chose to name the female kitten Angelica.
Since the McCradys are huge fans of Daveed Diggs- who played both Lafayette and Jefferson- they decided that those were the perfect names for the two boy kittens.
Now, the cast of Hamilton are fitting right in at McCrady Manor. Angelica, Jefferson and Lafayette have plenty of friends to keep them company- a rabbit, some quail and two dogs.
Why do cats have whiskers? Why do they meow? Why do they nap so much? And answers to 47 other kitty questions:
Why do they meow? Why do they nap so much? Why do they have whiskers? Cats, and their undeniably adorable babies known as kittens, are mysterious creatures. Their larger relatives, after all, are some of the most mystical and lethal animals on the planet. Many questions related to domestic felines, however, have perfectly logical answers. Here's a look at some of the most common questions related to kittens and cats, and the answers cat lovers are looking for.