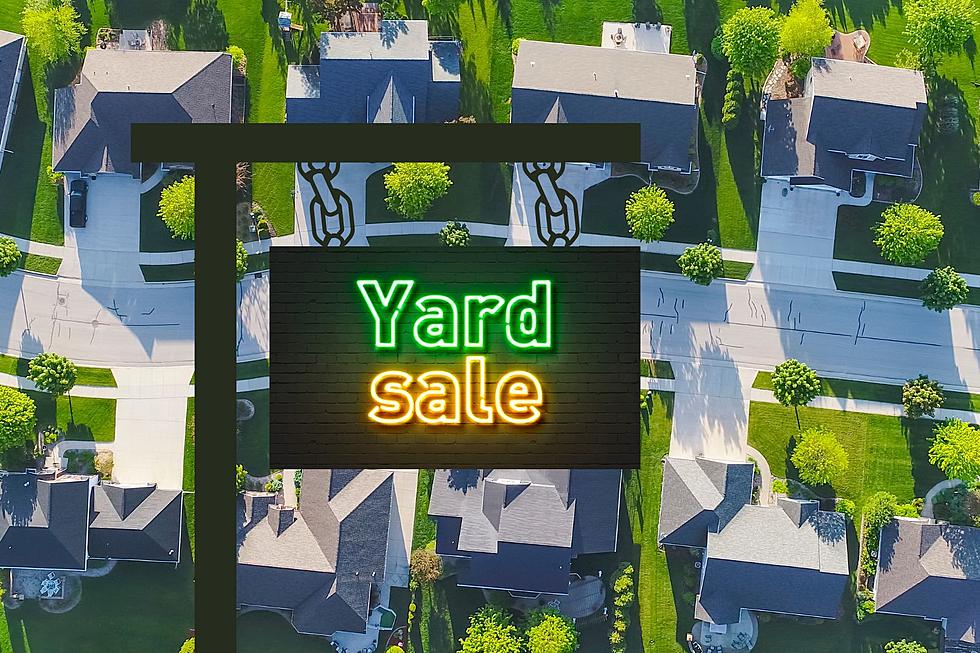 Hwy 54 Fall Yard Sale, Big Neighborhood Sale, Owensboro Yard Sales | 9/15 & 9/16
CANVA
Yard sale junkies, lace up those walking shoes, and get ready to shop til' you drop. Who doesn't love a bargain? And, what one person may think is worthless may be cherished by another. Tons of great items will be priced to sell. It's a big weekend of yard sales in and around Owensboro!
HWY 54 FALL YARD SALE
September 14th through September 16th, 2023
* Vendor space locations and availability are subject to change.
2023 Vendor Space Available For Rent:
Daviess County Lions Club Flea Market - At Daviess Co. Lions Club Fairgrounds 270-302-2669
Dawson Baptist Church
270-929-6009
Whitesville Mercantile
270-233-4714
Betty's Rustic Relic
270-315-6544
FREE SPACES
Whitesville City Park
270-233-5666
Fordsville North Park
270-256-3934
Fordsville Days Fundraiser Fall Festival
270-315-9446 or 270-256-6163
The Spunky Monkey/Kellems Plumbing
FREE SPACES
270-315-9446
"Cars on the Pole" - Leitchfield
FREE SPACES
Friday and Saturday only
Call 270-256-3934
for more information.
Hopefully, it will be a beautiful weekend to do some bargain hunting. You may even find designer items at thrift store prices. It's time to get hunting for your next treasure in Owensboro! We also have all the remaining dates for the big highway sales listed below. Let us know if you're having a yard/garage sale this weekend and we'll add it to the list.
TOWN & COUNTRY NEIGHBORHOOD SALE - OWENSBORO

Garden Terrace
My neighborhood yard sale is this weekend the 15th and 16th!!! I will be set up on the 16th at 6 a.m. We will be set up and have all kinds of different things! Also, I'll be grilling out around 9 a.m. and will have burgers and hotdogs for $2 a piece along with chips for $1. The girls will have a lemonade stand set up with THE best around! Come to "Town and Country" and hit our yard shop up!! Jetson will be selling high-fives for $60 a piece. LETS GOOOO!!!
OWENSBORO YARD/GARAGE SALES | 9/15 & 9/16
Find all the garage sales, yard sales, and estate sales happening around the Owensboro area. From community-wide yard sales and church sales to multi-family garage sales, there's something for everyone this weekend. So, put on your walking shoes and get ready to explore!
Garage Sale
4537 Countryside Drive Highway 54
Thursday-Saturday 7-?
Wicker chairs, trunk, chest, oak dining room table, adult and kids clothes, home goods & miscellaneous items.
Yard Sale
4401 Countryside Dr
Sept 14th ,15th and 16th 7am-2pm
Candance White
HUGE MULTI FAMILY YARD SALE!
6111 Old Highway 54 Philpot KY
Women's clothes, Boys' clothes 12m-4T, Toys and baby gear, furniture, household and wedding decor, and much more!
Saturday, Sept 16th. 7-?
The parking lot of Tinius Chiropractic is on the Corner of Tamarack and South Griffith.
Same day as Town and Country neighborhood sale.
Hundreds of items at great prices
YARD SALE
Thursday, Sept 14 AND Saturday, Sept 16
7 AM - 12 PM
6427 Ridge Brook Cove, Owensboro
Woodland Ridge Subdivision
Kids' clothes, women's clothes, dishes, glassware, home items, and more! I have a little bit of everything and 3 families' worth of stuff.
SIDEWALK SALE
9585 Ky 54 Whitesville
Howard's Auto Sales
Lots of great deals!!
5808 Timberlane Drive
Thursday, Friday, Saturday open at 7
kids and adult clothes, DVDs, Wii and games, shoes, and more.
Yard Sale
Thursday, Sep 14th, through Saturday, September 16
4744 Becker Dr.
Owensboro
Kelsey Wolfe
HUGE Multi-Family Culdesac Garage Sale
3147 Wood Valley Point, Owensboro, in the Lake Forest neighborhood
Friday, September 15th, and Saturday, September 16th starting at 7 AM!
Don't wait for Pigtails and Cowlicks to buy your kids' fall clothes…we've got baby boys newborn through boys size 6, and girls 4T through size 6/7 covered! Women's clothes of all sizes, men's dress shirts, double Zoe stroller, kids shoes, girls bike, girls vanity, baby bouncer and other baby items, SO much seasonal decor (heavy on fall), new Fiesta Ware sets, cargo wagon, Wii U games, and LOTS of Pokémon cards! Follow the signs and come ready to shop, because we're ready to sell!
Yard Sale
Thurs, Fri, and Sat!
1604 East 19th St
Boutique-style clothing for women and kids in all sizes up to large,
home furnishings, car seats, strollers.
6363 Little Hickory Rd in Philpot
September 15/16
Antiques, collectibles, vintage, cast iron, home decor, glassware, home office, tools, camping, fishing, sports, holiday decor, baby items, toys, and games.
"New Items Brought out Daily"
YARD SALE
5597 State Route 54 Philpot
Tons and tons of things.
Hunting clothes and boots, Adult clothes, kids clothes, toys, baby clothes. Home items. Shoes.
6154 Ditto Rd in Philpot
Fri. 9/15 9-5 Sat. 9/16 7-?
Good Clothing priced CHEAP Toddler (girls & boys) through Adult sizes, 2 Twin Box Springs, FREE King Headboard, Housewares, Furniture, Too much to list.
Yard Sale
Saturday 9/16/23
1913 Ottawa Drive
6 am Furniture, clothes, kitchen items, solid wood bedroom suite. Clearing out a house.
Thu, Sep 14, 2023 8:00 am - 1:00 pm
Fri, Sep 15, 2023, 8:00 am - 12:00 pm
1138 E Columbia St, Evansville, IN
Christmas Halloween IU Jackets games Knick knacks, Pet leases, Kitchenware,
Dolls, Cookie Jars Lots of .25-.50 cents items
YARD SALE
Countryside Neighborhood
4530 HUNTERS TRACE
THURSDAY, FRIDAY & SATURDAY
SAINT MARY MAGDALENE RUMMAGE SALE
7232 KY 56 - Owensboro
Thurs, Fri & Sat 6 am- 3 pm Saturday 6 am- 11 (Most items half-priced)
Handbags, Toys, Clothes for all ages, Picture Frames, Books, lots of Furniture, Holiday Decor. Cash Only!
MOVING SALE
Corner of Lakewood Dr and Benttree Dr
all week
great prices
Sat, Sep 16, 2023 8:00 am - 2:00 pm
5130 Lincoln Ave, Evansville
Inside sale at Aldersgate Methodist Church on 5130 Lincoln Avenue
We will have tables filled with household items, linens, pillows, decorations for inside and out, seasonal decorations, JEWELRY, antiques and vintage items, artwork, puzzles, books, purses, flower arrangements, small appliances, and some furniture pieces.
We will be selling BBQ Ribs $27 per slab ) and chicken( half for $7 )on the lot of the church
Multifamily Yard Sale
Saturday 7 am-?
2635 Lewis Lane!!
Girls 4 to 7/8 clothes all seasons, kids Nike and Adidas tennis shoes, juniors xs to medium clothing, and women's large and XL.
Wedding decor, holiday decor, home decor, and much more!!
Fri, Sep 15, 2023, 8:00 am - 12:00 pm
Sat, Sep 16, 2023 8:00 am - 12:00 pm
3023 Elmridge Dr, Evansville
It's a 3 FAMILY GARAGE SALE!! We've got clothes (baby and youth), brand new baby bottles, toys (baby and youth), men's pullovers, adult and children's books, small kitchen appliances, mobility accessories (ramp, walker, chair - barely used), furniture (couches, table, chairs), household items and decor, wi-fi printer, Christmas decor, and a gas grill!
Don't miss this sale!!
HUGE UPCOMING HIGHWAY YARD SALES: SAVE THE DATE
Highway 60 Yard Sale October 5th through October 8th
U.S. 25 Yard Sale October 6th and 7th
The Top-Rated Kentucky Attractions According to Trip Advisor
According to Trip Advisor's user ratings, these are the most popular attractions in Kentucky. You'll see a lot of bourbon, caves, and horses...as expected.
Top Owensboro Mexican Restaurants Based on Google Reviews
Whether you like fajitas, tacos, tortillas, or enchiladas, there are many restaurants to choose from in Owensboro. Mexican cuisine has such a delicious blend of spices, seasonings, and fresh ingredients, it shouldn't be a surprise it's so popular. It isn't just about the food but also the decorative ambiance and experience. Here are the most popular spots for authentic Mexican food in Owensboro,
based on customer/google reviews
.