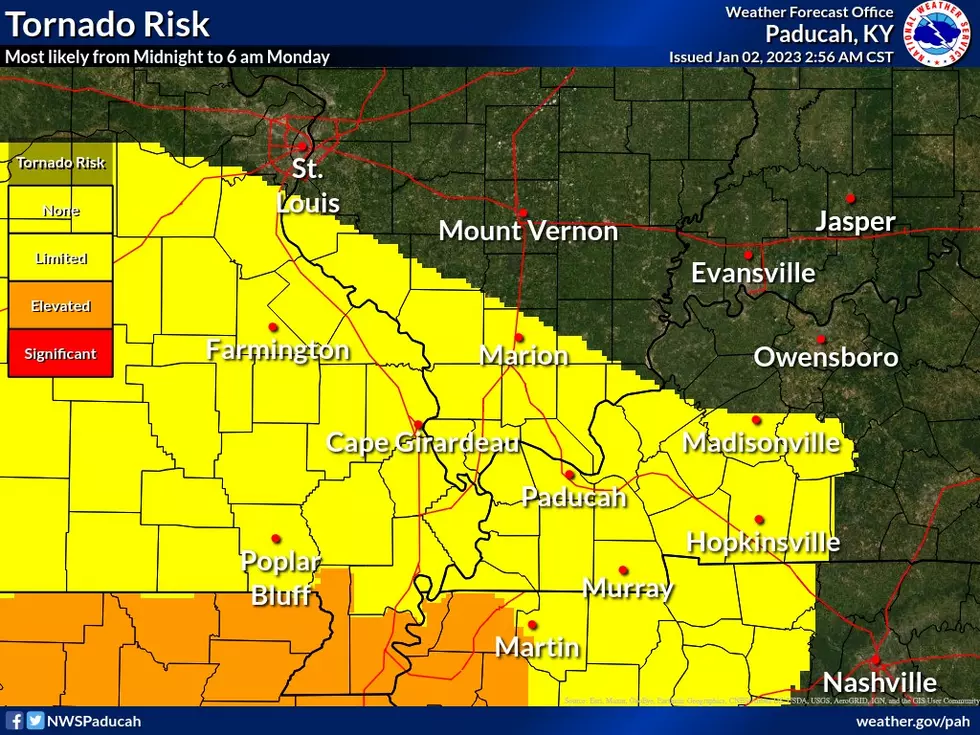 NWS Warns Strong Storms & Tornadoes Possible Overnight Jan 2-3, 2023
NWS
I remember when I was in high school a tornado ripped through Owensboro on January 1st. It was an incredibly isolated incident but it seems like these winter tornadoes seem to be getting more and more frequent. Maybe we just didn't have access to the technology and media outlets we do today to let us know about all the warnings and threats.
Strong Storms Overnight
This morning around 3:45 AM, the National Weather Service in Paducah posted this to social media:
We still have a risk for severe thunderstorms overnight Monday into Tuesday. The highest risk still appears to be between about midnight and 6 am. There is a chance some storms will be strong to severe earlier in the evening and a few strong to severe storms may linger Tuesday east of about a Murray to Evansville because the cold front moving through the region is expected to stall out. Locally heavy rain is likely as well. While its impossible to pinpoint where multiple rounds of storms will train over the same area we have issued a flood watch for areas most likely to see this and experience flash flooding. The maps below show the relative risk for damaging winds and isolated tornadoes. The risk is definitely higher to the southwest of the NWS Paducah area, but it appear this morning that it will remain unstable enough for severe storms to track into the area. Any tornadoes that form would likely be the type that form in a line, which are typically shorter lived and weaker (even EF2s are kind of rare in linear tornado systems) but they develop more quickly and can be harder to see and warn for - they obviously can still be quite dangerous. With the peak risk overnight, be prepared to have a way to get weather information and warnings through that period, and have a plan to get to a safe place should threatening weather approach. We will provide updates as new information becomes available.
In a Hazardous Weather Outlook Statement, the NWS said:
"Widespread showers and thunderstorms will produce heavy rainfall and possibly a few severe storms tonight into early Tuesday. The severe threat will be associated with a line of intense showers and storms that will move eastward across the Quad State mainly between midnight and 6am. Damaging winds and tornadoes will be possible. Heavy rainfall may lead to a few flooding issues, especially over portions of southeast Missouri and western Kentucky. Outside of thunderstorms, strong south winds could gust up to 40 mph through tonight."
Sounds like the tornado threat will miss the Evansville-Owensboro area but our friends to the south should take precautions to stay safe. Make sure you have our app downloaded and follow our weather partners at Eyewitness News.
Evansville Aerial Captures Heartbreaking Photos of December 31, 2022 4-Alarm Fire
Mark with
Evansville Aerial Photography
was able to capture some very 'In the moment' Photographs of the December 31, 2022, warehouse fire at 1421 N Garvin St, Evansville, IN 47711.
Follow his
Facebook page
for more amazing photos and drone footage of our beautiful city.